Andria Bieber Designs
Regular price
Sale price
$25.00
Unit price
per
Sale
Sold out
Share
With this kit you can create your own ear rings! This kit will include:
2- Nunn Design copper metal hoop charms 
Copper Czech glass beads -7 qty ( 6 for pattern 1 for extra)
2- oval, 5 mm freshwater pearls
2- round 6 mm freshwater  pearls
18- blue turquoise rondell stones 
2 grams copper 11/0 seed beads 
2 copper ear wire 
* you will need 26 gauge Dad soft copper wire. I use artistic brand wire from beadalon.
ships gift boxed
Nickel, lead, and cadmium free 
Directions: Cut 2 feet of 26 gauge wire & form 3 coils on copper wire frame, add 6mm pearl, wire wrap on side of frame with 4 coils. Bring wire back around & add 4 blue turquoise stones, & wire wrap on other side of copper frame. add 1 seed bead, 1 leaf, 1 SB 1 leaf,1 SB until you have three leaves, going across the wire frame. Wire wrap closed. Cut off excess wire & pinch closed. go to bottom of wire hoop and wire 26 gauge wire around hoop with three coils, add oval pearl, wire wrap closed around hoop, bring the wire over the top of the pearl and add 5 blue turquoise stones and wire wrap, a crossed other side of hoop. Rap four times around hoop, and bring wire over the top of the stones adding seed beads. Start with 3 seed beads going over 1 blue stone. Take the wire in between the stones pull the wire tightly & bring the wire under and pull up. With the wire back up add 5 seed beads & wire wrap back down through the blue stones forming a curve shape and under the other wire and pull back up. Add 4 more seed beads, curve over blue stones and wire wrap closed on the hoop. Cut off excess wire and pinch closed.
Let's visit some more on:

Facebook https://www.facebook.com/andriabieberdesigns
Instagram at https://www.instagram.com/andriabieberdesigns/
Pinterest at https://www.pinterest.com/andriabieberdesigns/
View full details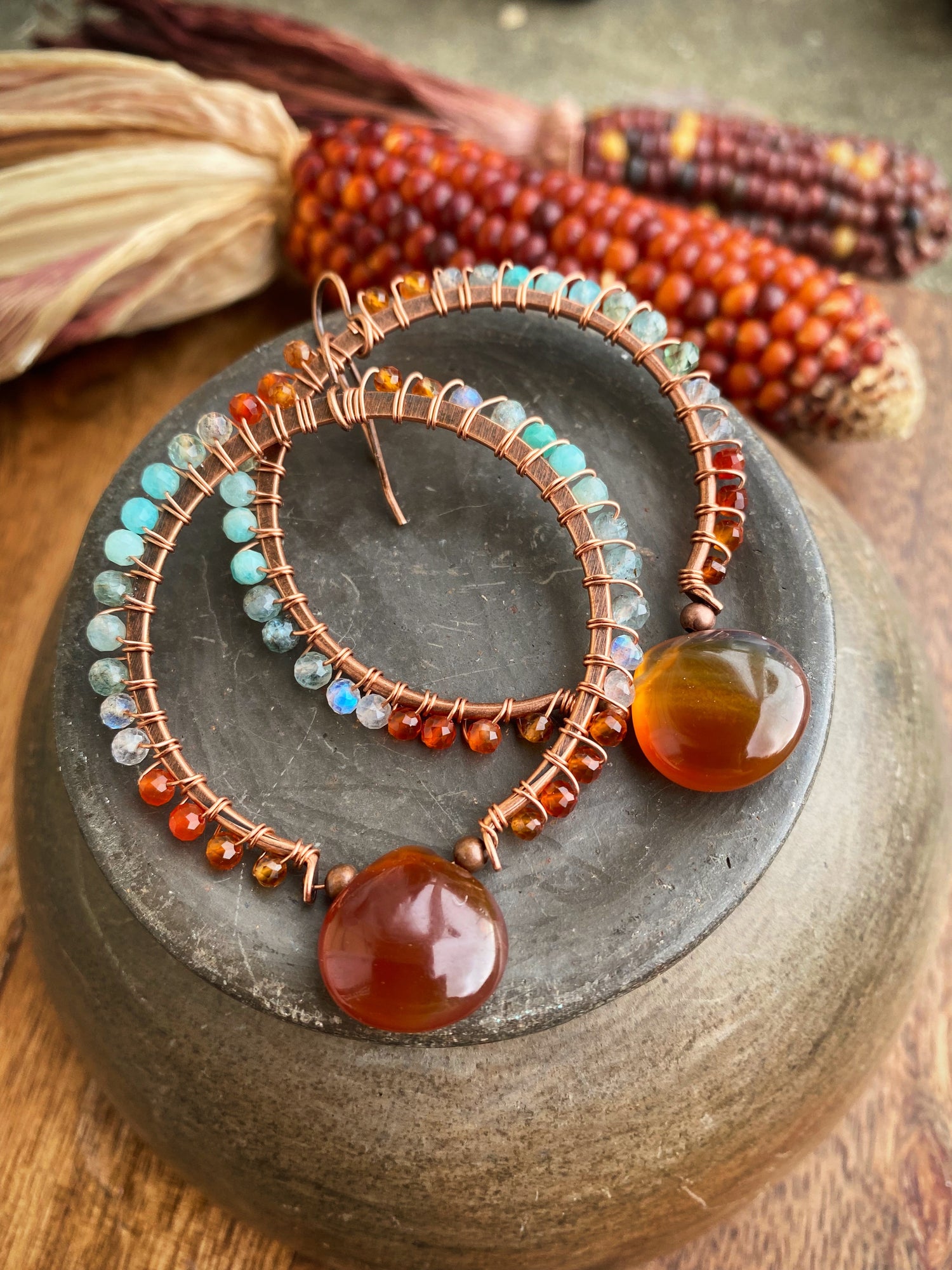 Andria Bieber Designs
"Wearing Jewelry on the Day Name Ending with Y Is the Sign, That You Have Good Jewelry Collection."